Back To Blog
In order to determine which type of door locks are durable and which ones are not, multiple tests have been performed. The ability to withstand drilling, hammering, prying, and picking have been measured by industry professionals. Some have survived the rigorous testing whereas others did not. Below are some of the more common facts, revealed from these evaluations.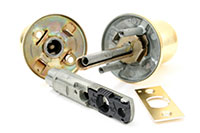 Poorly Made Parts
Unfortunately, there are some locking systems on the market that are made with poorly manufactured parts; they are not as high quality as others. One of the parts that are known to be of lower grade is the strike plate of the lockset. Many are weak and flimsy, notwithstanding force that well. For the most part, not all locking mechanisms fit this description. There are brands on the market that offer heavy-duty durability.
Drill Proof
It is essential that the locks that protect your property are drill proof which keeps the criminals out; unfortunately this is not always the case. Ordinary locks can be broken open with such a basic tool as a power drill. Drilling is often used by thieves to remove the inter-cylinder of the locking mechanism. Quality locks on the market come with a hardened cylinder that resist drilling. After a drilling attempt, the component will be subject to excess damage; however, it still will not render access to the perpetrator. Lock replacement is much cheaper opposed to having to replace all of your stolen content in the event of a breach.
Advanced Locking Systems
Today's technology has really evolved the traditional locking mechanism; there are now keyless entry locks that can be accessed by remote, keypad, and even through the use of your smartphone. The really innovative models offer accessibility only through the scanning of the eye's retina and identifiable fingerprints like in the James Bond movies. These are mostly used in high-end homes and commercial buildings. Card swipe locking systems are also common in the business arena. Testing has revealed that even such sophisticated locks can be breached if not properly used. For tips on proper utilization of these advanced locks, consult any professional from locksmith Sumner.